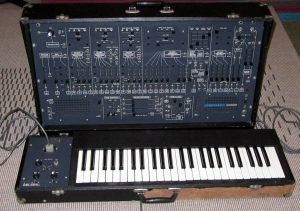 "ARP 2600 v.2 with 3604P keyboard in GOOD condition, plus manuals and extras.
Here is a unique opportunity to own a rare, collectible analog synthesizer classic.
TONUS U.S.A.1971-72 (version 2) with the model 3604-P keyboard and cable – Cinch Jones connectors.
THE ROLAND MPU-101 MIDI – CV converter IS INCLUDED in mint condition with original manual.
** SORRY, LOCAL PICKUP ONLY **
LOCATION DISCLOSURE:
I live on the Cumberland Plateau in middle Tennessee between Nashville and Knoxville.
The included extras:
owner's manual (quality photocopy and pdf ),
service manual (professionally bound photocopy and pdf)
ARP 2600 Patch Book (quality photocopy and pdf)
ARP 2600 Front Panel Facsimile (blank patch sheets)
custom-made 1/8″ mini phone patch cables (Switchcraft plug)
1/8″ to 1/4″ phone cables
several vintage grey cables with the molded plugs and 1/4″ phone adapters
spare AC line cords
ONE MODIFICATION:
* Switchcraft 1/4" phone jacks added to the front panel.
(one for the pre-amplifier input and two more for the left and right stereo outputs) Very convenient.
*** otherwise, 100% original inside and out ***
KNOWN PROBLEMS:
* No audio from the right speaker and line output.
* The 3604P keyboard contacts will need cleaning.
* One missing slider cap broke off long ago, but the slider pot is still good.
(See the photo of the right speaker volume slider pot)
Please note that this has nothing to do with the first "no audio" problem listed above.
*** other than that, ALL modules and controls function 100% ***
The synthesizer may be used in its current condition.
I am still using it as-is with the Roland MPU-101 MIDI to CV converter."
Click here to search for synths on eBay