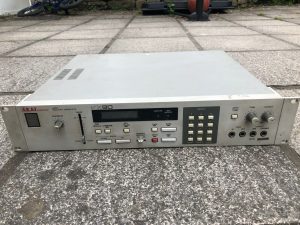 " This is a great, and very rare, rack mount analogue synth. Fully working and with original mains lead.
Full MIDI which was not always available on Analogue synths as analogue was disappearing when MIDI was coming in.
With an identical voice structure to the AX73, the VX90 is a rack-mount version. It is a MIDI equipped six-voice analog synthesizer with advanced digital controls and functions. Like the AX73 it has an auto-tune function and a really nice VCF lowpass/hipass filter and envelope section. The VX90's memory capacity holds up to 100 patches. It can be played polyphonically or in a stacked unison mode for that thick lead sound for your rave and techno anthems. A really cool feature of the VX90 is that you can plug the Akai S-612, S-900 and S-950 samplers in to it and run their samples through the VX90's analog filter and envelope sections.
It looks a bit grubby in the photos but does clean up ok. I made a clean spot on the Bank and Edit buttons! I would clean it but I don't have the time!!"
Click here to search for synths on eBay