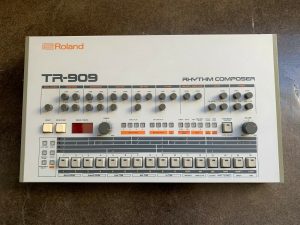 "1980s Roland TR-909 Rhythm Composer (Drum Machine). No issues. Works perfectly. All buttons and knobs work as they should. Well cared for and maintained by Bruce Forat.
**Also a very special mod by Bruce so I can have Rom Version 1 and 4 (Rom version 4 does not allow a factory reset). He made a switch in the battery compartment (see photo). The best of both worlds. You can switch between Rom version 1 so you can do a factory reset and Rom version 4 for midi timing correction. This machine is probably a one of kind. This mod does not effect the sound at all. It's a costly upgrade.
See photos for cosmetic condition. Comes with power cord and a copy of the owners manual.
High serial number which will have all the Roland revisions to the 909. Great sounding machine. "
Click here to search for synths on eBay